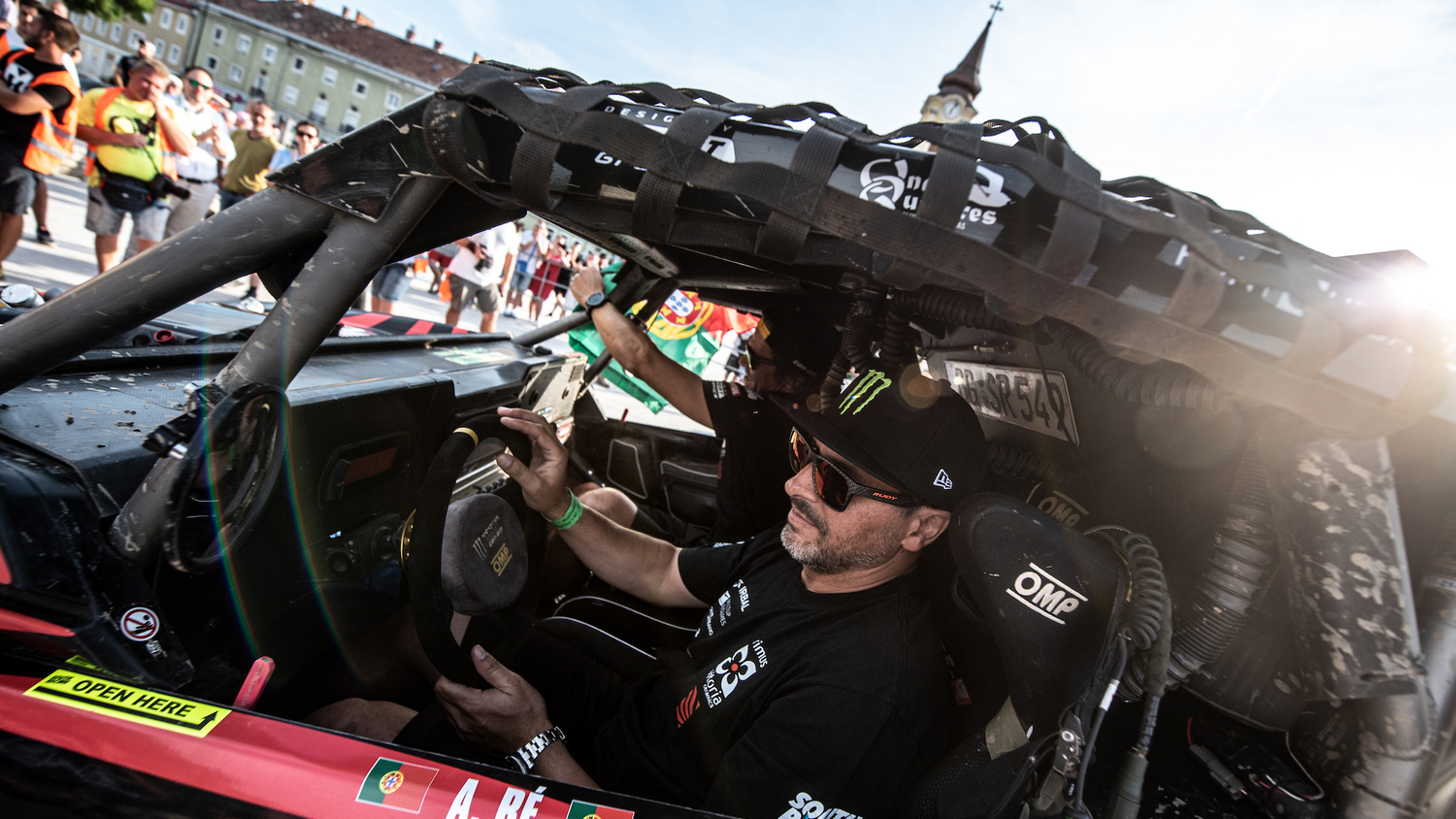 08/08/2021
SOUTH RACING CAN-AM TEAM'S ALEXANDRE RÉ SEALS COMFORTABLE FIA T4 VICTORY AT THE HUNGARIAN BAJA
Hungarian Baja– August 6-8, 2021
FIA World Cup for Cross-Country Bajas, round 6
FIA European Cup for Cross-Country Bajas, round 2
Sunday, August 8th, 2021


SOUTH RACING CAN-AM TEAM'S ALEXANDRE RÉ SEALS
COMFORTABLE FIA T4 VICTORY ATHE HUNGARIAN BAJA
Kuwait's Meshari Al-Thefiri extends his FIA Baja series lead with fourth place
Sixth and seventh for Ukraine's Ievgen Kovalevich and Saudi's Saleh Al-Saif
VÁLPALOTA (HUNGARY): After their outright FIA T4 success in the recent Baja Spain Aragón, Alexandre and Pedro Ré tackled the Hungarian round of the series for the first time with the South Racing Can-Am Team and sealed a comfortable second successive victory in their Can-Am Maverick.
The win by the margin of 13min 51sec over Russian driver Pavel Silnov moves the Portuguese into a comfortable advantage in the points' standings after two rounds of the FIA European Cup for Cross-Country Bajas.
"It was a great race for me and my brother," said Ré. "It was definitely something new for us and a big thanks to the team for making this win possible. Opening the road on the last stage we were controlling a lot and not fighting to make sure that we reached the end without any problems."
Kuwait's Meshari Al-Thefiri snatched the T4 category lead in the FIA World Cup for Cross-Country Bajas after the Spanish round and headed into the Hungarian event defending a six-point advantage over French veteran Claude Fournier. Al-Thefiri again teamed up with Qatar's Nasser Al-Kuwari. Despite a front differential issue and the resultant delays, the Kuwaiti reached the finish in fourth place to further increase his lead in the title standings after Fournier retired on the final day.
"At the service before the last stage, we changed the gearbox and, on the road section, we checked the differential and it drive with rear-wheel drive, not four-wheel," said the Kuwaiti. "We drive the best we could but we are happy to be still leading our category and will push more on the next rallies."
Saudi Arabia's Saleh Al-Saif began the Hungarian Baja trailing Al-Thefiri by 11 points in the championship standings but he and French co-driver Sebastien Delaunay lost ground on their GCC rivals after holing a radiator and shedding a wheel on their way to points for seventh place.
Ukrainian driver Ievgen Kovalevich joined the South Racing Can-Am Team for the first time alongside experienced fellow countryman and co-driver Dmytro Tsyro in a fourth car. They were classified in sixth after setting consistent stage times throughout the three-day off-road event, held over rural tracks and trails in Veszprém County, north of Lake Balaton.
South Racing Can-Am Team's Scott Abraham said:"Another great event for the team. Once again the South Racing Can-Am Team has shown it is the class of the field with South Racing-built vehicles finishing first, second and fourth. As always, the Hungarian Baja kicks up a bit of a challenge and Alexandre and Pedro again had a phenomenal race to win the category, finish sixth overall and take the lead in the European Baja Cup.
"It was a good fight back from Meshari and Nasser after some late mechanical problems on the first stage this morning. They were able to consolidate their championship lead. It was a great debut for Ievgen and Dmytro. This was their first event with the team and hopefully the first of many to come. Saleh had a difficult stage on Saturday and came back strong.
"The team now heads back to Portugal to rebuild the cars for Baja Poland, where we will field an eight-car entry!"
First on the agenda for competitors was a pass through the 7.69km super special stage at Várpalota on Friday afternoon. Ré began his Hungarian campaign in determined fashion and a time of 5min 46.5sec catapulted the Portuguese into a T4 lead of 8.6 seconds over Al-Saif. Al-Thefiri slotted into fourth place and Kovalevich began his Can-Am campaign with South Racing by recording the eighth quickest time.
Ré said: "We had a lot of rain in Hungary the day before the start but the Prologue stage was very good. We also made sixth overall against the Minis and the Toyotas. It was a very nice stage for us."
The action continued with the first of two passes through an 82.39km selective section between Stigibácsi and the town of Gyulafirátót on Saturday morning. Ré continued his impressive form to set the fastest time and extended his T4 advantage over Al-Thefiri and Miguel Valero. Al-Saif ceded around 10 minutes to his rivals after damaging his radiator and then he lost a wheel.
Crews then tackled a shorter selective section of 57.84km between nearby Sasó and Újmajor and the Portuguese was again quickest to reach the midday service point with a lead of 4min 39sec.
"I chose to go in the first position into the stages but it was a bad decision because we were lost two or three times and we lost a lot of time," admitted Ré. "In Portugal it is different. Everyone chooses first and second and so on. The stages were very narrow."
The Portuguese shaved 2min 06sec off his morning's run through the first stage to beat Al-Thefiri by 1min 22sec and a fifth quickest time in SS5 enabled him to take a useful lead into the night halt.
"We had a problem from the beginning of the second loop," said Al-Thefiri. "Five kilometres into the stage we heard something bad from the front differential but we continued in the second stage and the front differential broke completely, so we drove with rear-wheel drive only."
Ré was quickest on the first pass through the 83.30km section between Gyulafirátót and Várpalota on Sunday morning and saw his lead over Pavel Silnov grow to 12min 53sec heading into the repeat of the special in the afternoon.
A time penalty and two sixth quickest times had pushed Al-Thefiri down to fourth in the rankings after his transmission issue, with Al-Saif recovering well to set a fastest time in SS5 and a second quickest run in SS6.
Al-Saif was again fastest in the final stage to consolidate his seventh place, but Ré sealed a comfortable win with the second quickest time to reach the finish in Várpalota 13min 51sec in front of Silnov and 14min 18sec ahead of third-placed Angel Valero.
Support for the South Racing Can-Am Team came from Method Wheels, Tensor Tires, Motul, Bell, Lazer and OMP.
2021 Hungarian Baja – FIA T4 result
1. Alexandre Ré (PRT)/Pedro Ré (PRT) South Racing Can-Am Maverick 5hr 35min 23sec
2. Pavel Silnov (RUS)/Evgenii Zagorodniuk (RUS) Can-Am Maverick 5hr 49min 14sec
3. Miguel Valero (ESP)/Jacqueline Ricci (ESP) Can-Am Maverick 5hr 49min 41sec
4. Meshari Al-Thefiri (KWT)/Nasser Al-Kuwari (QAT) South Racing Can-Am Maverick 5hr 59min 27sec
5. Amerigo Ventura (ITA)/Angelo Montico (ITA) Yamaha YXZ 1000 R 6hr 06min 42sec
6. Ievgen Kovalevich (UKR)/Dmytro Tsyro (UKR) South Racing Can-Am Maverick 6hr 10min 26sec
7. Saleh Al-Saif (SAU)/Sebastien Delaunay (FRA) South Racing Can-Am Maverick 6hr 15min 31sec
Claude Fournier (FRA)/Laurent Lichtleuchter (FRA) Can-Am Maverick DNF
Ends
For further information: contact Scott Abraham, South Racing, Email: Scott.Abraham@southracing.com, Tel: + 49 172 6662880.
Facebook group: South Racing Can-Am