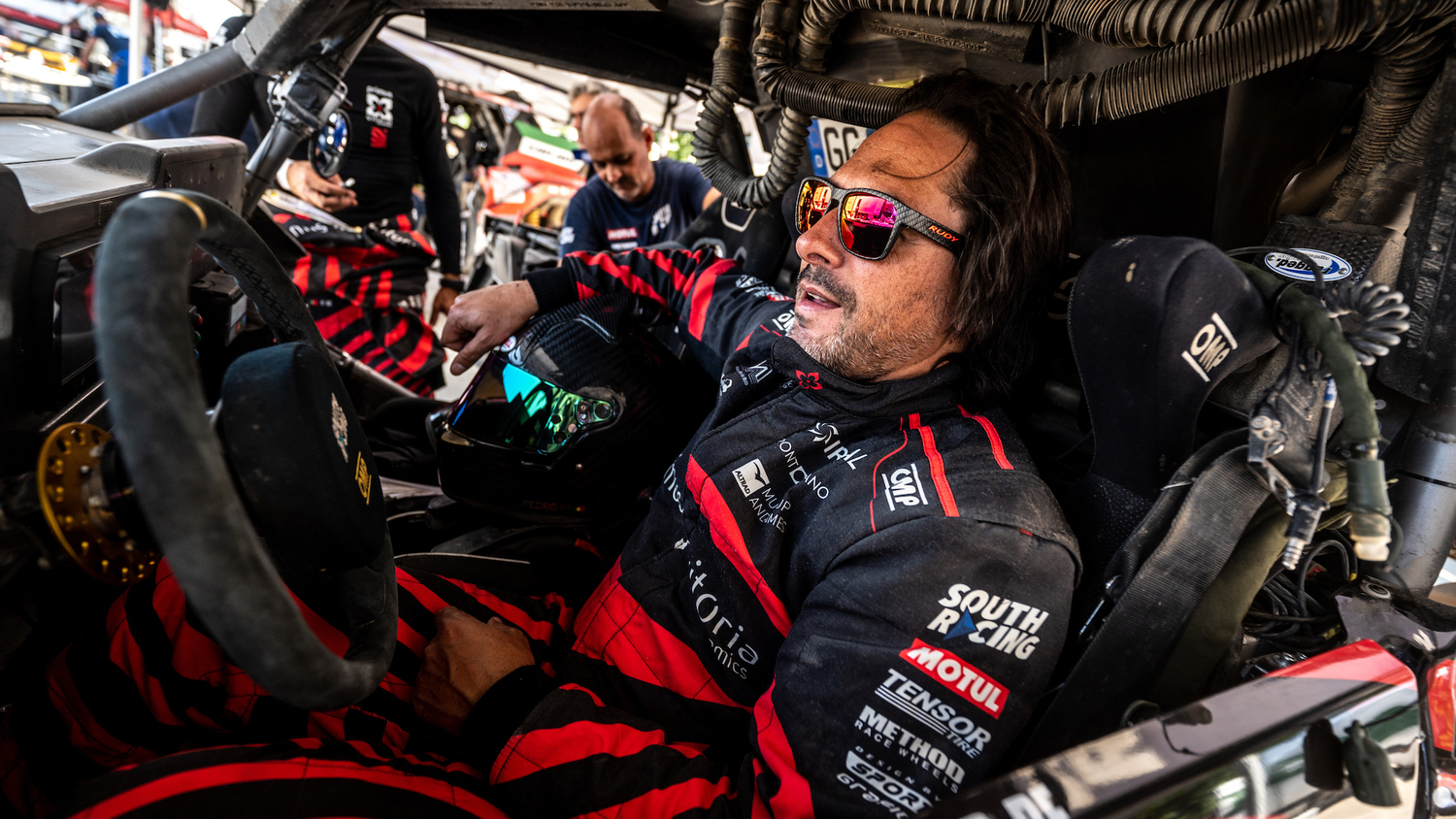 24/07/2021
FIA T4 VICTORY FOR PORTUGAL'S ALEXANDRE RÉ AND SOUTH RACING CAN-AM TEAM IN BAJA SPAIN ARAGÓN
Baja Spain Aragón – July 23-24, 2021
FIA World Cup for Cross-Country Bajas, round 5
For immediate release
Saturday, July 24th, 2021
FIA T4 VICTORY FOR PORTUGAL'S ALEXANDRE RÉ
AND SOUTH RACING CAN-AM TEAM IN BAJA SPAIN ARAGÓN
Kuwait's Meshari Al-Thefiri finishes second to hold FIA T4 series lead
Australian star Molly Taylor and Lithuanian rookie Rokas Baciuška in fifth and sixth
TERUEL (SPAIN): The Portuguese crew of Alexandre and Pedro Ré claimed victory for the South Racing Can-Am Team in a hotly contested FIA T4 category at Baja Spain Aragón on Saturday.
The experienced duo held their nerve through the closing 208.36km selective section to pass Spaniard Gerard Farrés and snatch victory by 9min 12sec on the fifth round of the 2021 FIA World Cup for Cross-Country Bajas.
"It was quite hard with a lot of rocks," said the Portuguese Can-Am Maverick driver. "We had some problems with the rocks with punctures. In the end we are here. We are delighted with this win."
Kuwait's Meshari Al-Thefiri did his championship dream no harm at all with a solid drive in his Can-Am alongside Qatari navigator Nasser Al-Kuwari. Holding third in the FIA T4 standings at the start of the Baja, Al-Thefiri carded a third, an eighth and a fifth quickest time to reach the finish in second position and hit the top of the provisional points' table after five rounds.
Thirty-three-year old Molly Taylor teamed up with German co-driver Dennis Zenz for her first taste of cross-country rallying in the T4 category. The current leader of the Extreme E series completed the event in fifth place.
The Lithuanian duo of Rokas Baciuška and Mindaugas Lelys were fastest on the second stage on Saturday morning and overcame a 15-minute time penalty for a wheel-changing infringement to finish in sixth place with the second quickest time on SS3. Without the penalty, the Lithuanian could well have finished second overall.
Dutchman Kees Koolen teamed up with Portugal's Pedro Santos and reached the finish in Teruel in ninth overall.
Saudi Arabia's Saleh Al-Saif teamed up with Spanish navigator Oriol Vidal in a South Racing Can-Am and began the event just five points behind French veteran Claude Fournier in the FIA T4 Baja series rankings.
Rolling the Can-Am on to its side in a deep water splash ruined the Saudi's chances of taking the win on the opening stage, but he bounced back to tackle the second day and remains in the title hunt after Fournier failed to score any points after retiring on SS3.
The Spanish duo of Gerard Farrés and Armand Monleón ran a Monster Energy-branded Can-Am and finished fourth overall after leading through the second stage. They had been second and third quickest on the first two stages before losing out on a potential victory following two late punctures.
Saudi female driver Mashael Al-Obaidan teamed up with Emirati co-driver Ali Mirza to crew another Can-Am being run on the event by South Racing Middle East. They were entered in the FIA T3 category and reached the finish in eighth overall.
South Racing Can-Am Team's Scott Abraham said: "This was a great result for Alex and Pedro who once again showed that their recent win in the Portuguese Championship was no fluke. It also showed the dominance of the Maverick. Meshari drove a consistent and strong race to take the lead in the FIA World Cup.
"It was a superb debut for Molly and Rokas. They both showed phenomenal pace. We are all looking forward to Baja Hungary in two weeks' time."
Competition began with an opening selective section of 180km. Ré topped the FIA T4 times in his South Racing Can-Am, the Portuguese finishing the section in 2hr 33min 57sec to open up a lead of 20 seconds over Farrés.
Al-Thefiri and South Racing debutants, Baciuška and Taylor, were third, fifth and sixth. Koolen reached the finish in 12th place but Al-Saif survived a heart-stopping moment at a deep water splash when he ran a little wide into deeper water and the Can-Am tipped on to its side in the hazard, soaking the shocked Saudi in the process.
"It was a new experience for me," said Taylor. "It was not easy in the dust and we caught 10 to 15 cars in the stage. That is part of the sport. This is very different to what I have been used to."
Roberto Rodrigues set the early pace in the FIA T3 section on a stage where South Racing Middle East's Al-Obaidan was classified in 11th.
"It was a completely new landscape for me," said Al-Obaidan, who finished the demanding opening stage in two-wheel drive. "I am familiar with the dunes but I learned a lot and had so much fun."
The second leg was split into two selective sections of 112.91km and 208.36km. Despite a 15-minute time penalty, Baciuška belied his lack of cross-country experience to card the fastest stage time in the T4 section, the Lithuanian posting an impressive 1hr 40min 57sec to beat Taylor to the stage win by 56 seconds.
Farrés came home in third place and Al-Saif, Koolen, Al-Thefiri and Ré were sixth, seventh, eighth and 10th. The result of the stage meant that Farrés gained an outright lead over Ré of 65 seconds to take into the final selective section.
"The feeling was good today and better than yesterday," said Farres. "Yesterday, was my first race for six months after the Dakar. I had more speed and confidence today."
Al-Thefiri and Taylor were third and fifth after the Kuwaiti lost over a minute and a half in the dust. Rodrigues continued to dominate the FIA T3 section and increased his advantage over Enrique Reyes, as Al-Obaidan finished the stage in 11th place to hold ninth overall.
"The first part of the second day was way easier with no mud and no water," said Al-Obaidan. "The car was perfect. The stage was rough and destructive where we had a lot of rocks."
After Farrés was delayed on the final stage, Ré stormed through to secure a comfortable win with the fastest time. Baciuška was second quickest and moved up to sixth and fifth was sufficient to cement second overall for Al-Thefiri.
Support for the South Racing Can-Am Team came from Method Wheels, Tensor Tires, Motul, Bell, Lazer and OMP.
2021 Baja Spain Aragón – FIA T4 result
1. Alexandre Ré (PRT)/Pedro Ré (PRT) South Racing Can-Am Maverick 7hr 10min 35sec
2. Meshari Al-Thefiri (KWT)/Nasser Al-Kuwari (QAT) South Racing Can-Am Maverick 7hr 19min 47sec
3. Jerôme De Sadeleer (CHE)/Michael Metge (FRA) Can-Am Maverick 7hr 19min 52sec
4. Gerard Farrés (ESP)/Armand Monleón (ESP) Monster Energy Can-Am Maverick 7hr 20min 19sec
5. Molly Taylor (AUS)/Dennis Zenz (DEU) South Racing Can-Am Maverick 7hr 20min 59sec
6. Rokas Baciuška (LIT)/Mindaugas Lelys (LIT) South Racing Can-Am Maverick 7hr 30min 12sec
7. Miguel Valero (ESP)/Jacqueline Ricci (ESP) Can-Am Maverick 7hr 30min 54sec
8. Gaël Queralt (ESP)/Marc Solà (ESP) Can-Am Maverick 7hr 34min 20sec
9. Kees Koolen (NLD)/Pedro Santos (PRT) South Racing Can-Am Maverick 7hr 35min 24sec
10. Amerigo Ventura (ITA)/Angelo Montico (ITA) Yamaha YXZ 1000 R 7hr 36min 43sec
2021 Baja Spain Aragón – FIA T3 result
1. Roberto Rodrigues (ESP)/Herman Rodrigues (ESP) Can-Am Maverick 7hr 13min 14sec
2. Ronald Basso (FRA)/Jean-Pierre Garcin (FRA) Can-Am Maverick 7hr 26min 00sec
3. Santiago Navarro (ESP)/Sergi Brugué (ESP) Overdrive OT3 7hr 38min 29sec
4. Enrique Reyes (ESP)/Daniel Conde (ESP) VM Competicion Can-Am Maverick 7hr 42min 41sec
8. Mashael Al-Obaidan (SAU)/Ali Mirza (ARE) South Racing ME Can-Am Maverick 9hr 27min 45sec
Ends
For further information: contact Scott Abraham, South Racing, Email: Scott.Abraham@southracing.com, Tel: + 49 172 6662880.
Facebook group: South Racing Can-Am